A&T Subaru "Fills the Car" with 122 lbs. of Food and Supplies
for Subaru Share the Love Hometown Charity Keystone Opportunity Center
Sellersville, PA (January 17, 2018) – The extended "Subaru family" of A&T Subaru customers and friends have come through once again for their Subaru Share the Love Hometown Charity, Keystone Opportunity Center. The annual "Fill the Car" campaign, where all were encouraged to bring donations to A&T Subaru's Sellersville showroom to – you guessed it – fill a car, yielded 122 lbs. of food and supplies for the Souderton-based agency.
This marks the fifth year of A&T Subaru's partnering with Keystone Opportunity Center as their Hometown Charity for the Subaru Share the Love campaign, a charitable program in its tenth year. Customers of local Subaru retailers purchasing or leasing a new Subaru vehicle from November 16, 2017, to January 2, 2018, can choose to designate $250.00 to one of four national charities -- ASPCA®, Make-A-Wish®, Meals On Wheels America®, and the National Park Foundation -- or one local "Hometown Charity."
"We're excited to see how much was raised this year. We hope it's a big number, so we can help Keystone help even more people," said Jeff Allen, A&T Chevrolet-Subaru president. "We'd also like to thank Landis Market in Telford for allowing us to have a "Fill the Car" donation station in their store."
Over the past four years, the amount donated to Keystone Opportunity Center from the Subaru Share the Love campaign is approximately $26,000.
Keystone Opportunity Center accepts donations of items from non-perishable food items to household basics like soap and towels. A full wish list is available at www.keystoneopportunity.org.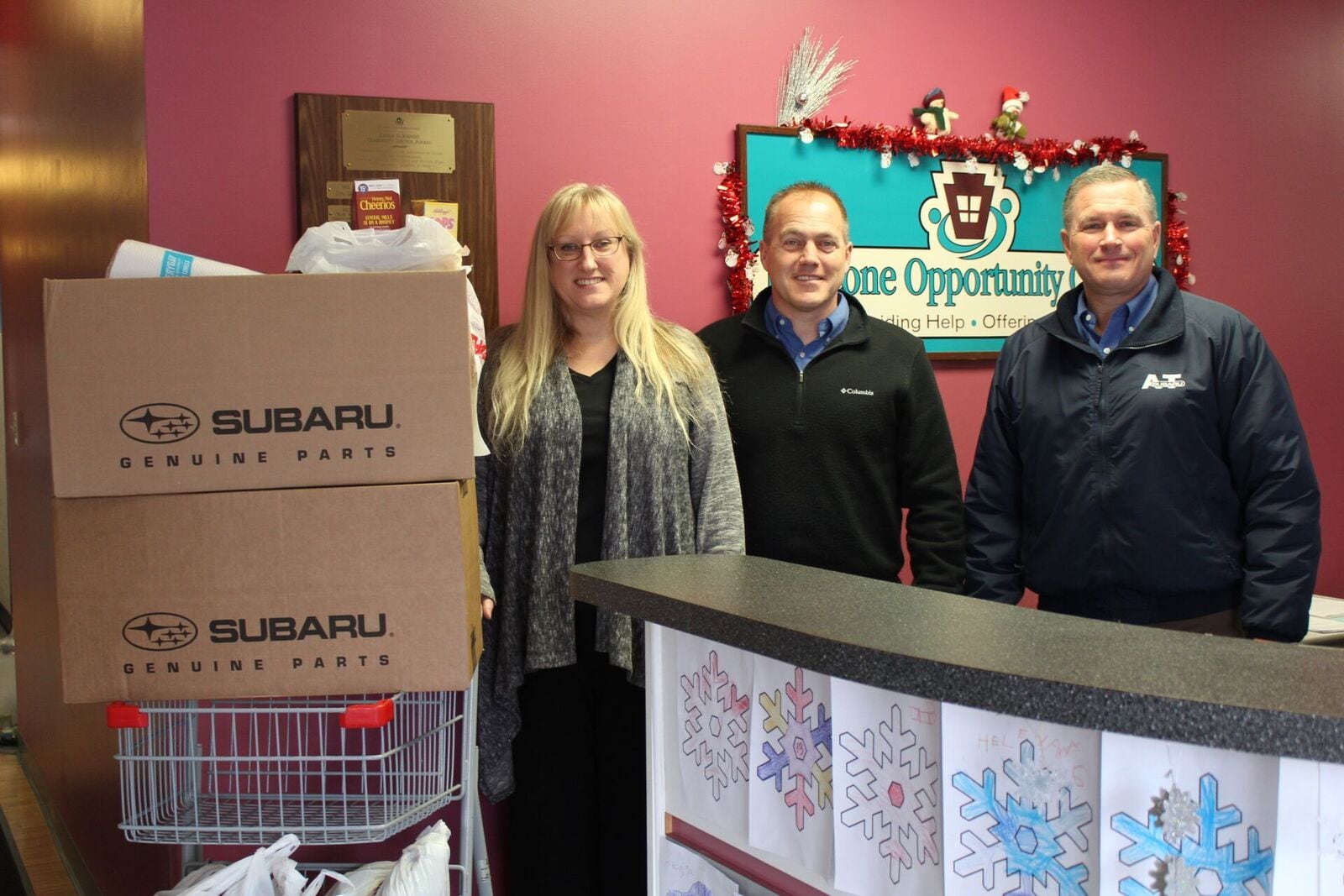 PICTURED (L-R): Arlene E. Daily, Keystone Opportunity Center executive director; Joe Fost, A&T Chevrolet-Subaru general manager; Jeff Allen, A&T Chevrolet-Subaru president
About A&T Subaru:
A&T Subaru treats the needs of each individual customer with paramount concern and enjoys the challenge of meeting and exceeding those standards each and every time. To learn more, browse inventory or contact a representative, visit www.atsubaru.net or call 215-257-8022.
###