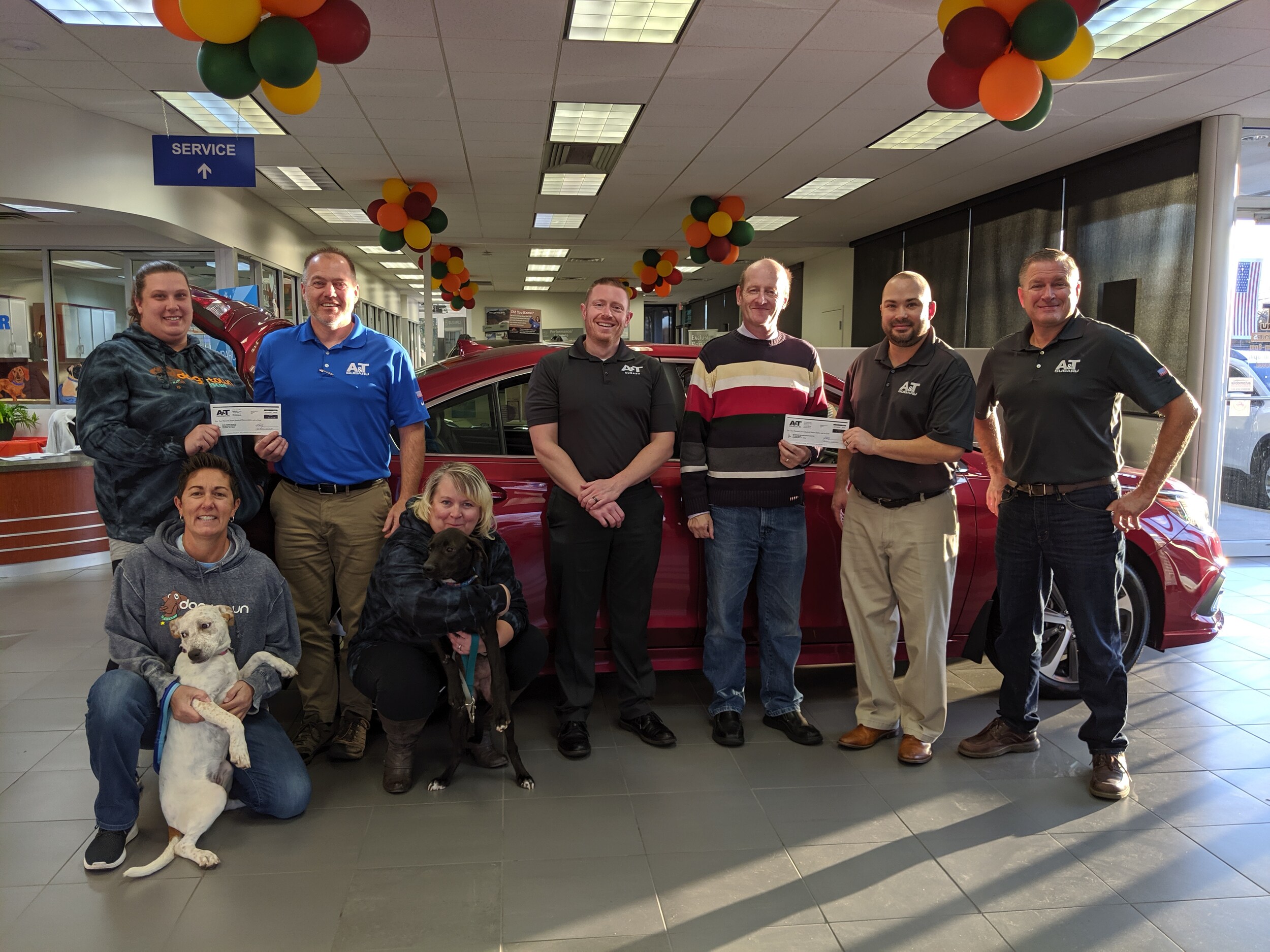 Celebration of Cars is Back in 2021!
Our Car Show is back in 2021 and we can't wait. More information to come, but save the date:

Sunday, October 10, 2021.
Update on the 2020 Celebration of Cars
Due to ongoing concerns and unknowns with COVID-19, we are cancelling the 2020 edition of the Celebration of Cars, which was scheduled for October 11, 2020. We look forward to staging an exciting and beautiful show in 2021!
A&T Subaru 2019 Celebration of Cars Yields $5,426.00 Donation to Dog Town Rescue and Keystone Opportunity Center
Our second annual Celebration of Cars car show nearly doubled in size with over 200 participating vehicles. As a result, the funds collected from the registration fees and raffle prize entries grew to $2,713.00. A&T matched that amount to bring the total to $5,426.00 so that our beneficiaries, Keystone Opportunity Center and Dog Town Rescue, each received $2,713.00.
"It's important to us that we give back to our community," said A&T Subaru president, Jeff Allen. "This event is perfect because it brings together our car community and these local non-profits doing important work. Every dollar that comes in for this event goes right into the proceeds. We have fun for all ages with food trucks, face painting, and a DJ. It's a great time for families and car lovers. Everyone save the date, because we're doing it again Sunday, October 11, 2020."
Malcolm Friend, director of resource development for Keystone Opportunity Center, agrees: "Keystone Opportunity Center is delighted to be a beneficiary of this show. The array of cars on display was wonderful this year, and we want to recognize both the philanthropic generosity of A&T and everyone who attended this year. Please know that you continue to make a difference in the lives of community members facing poverty, hunger, and homelessness."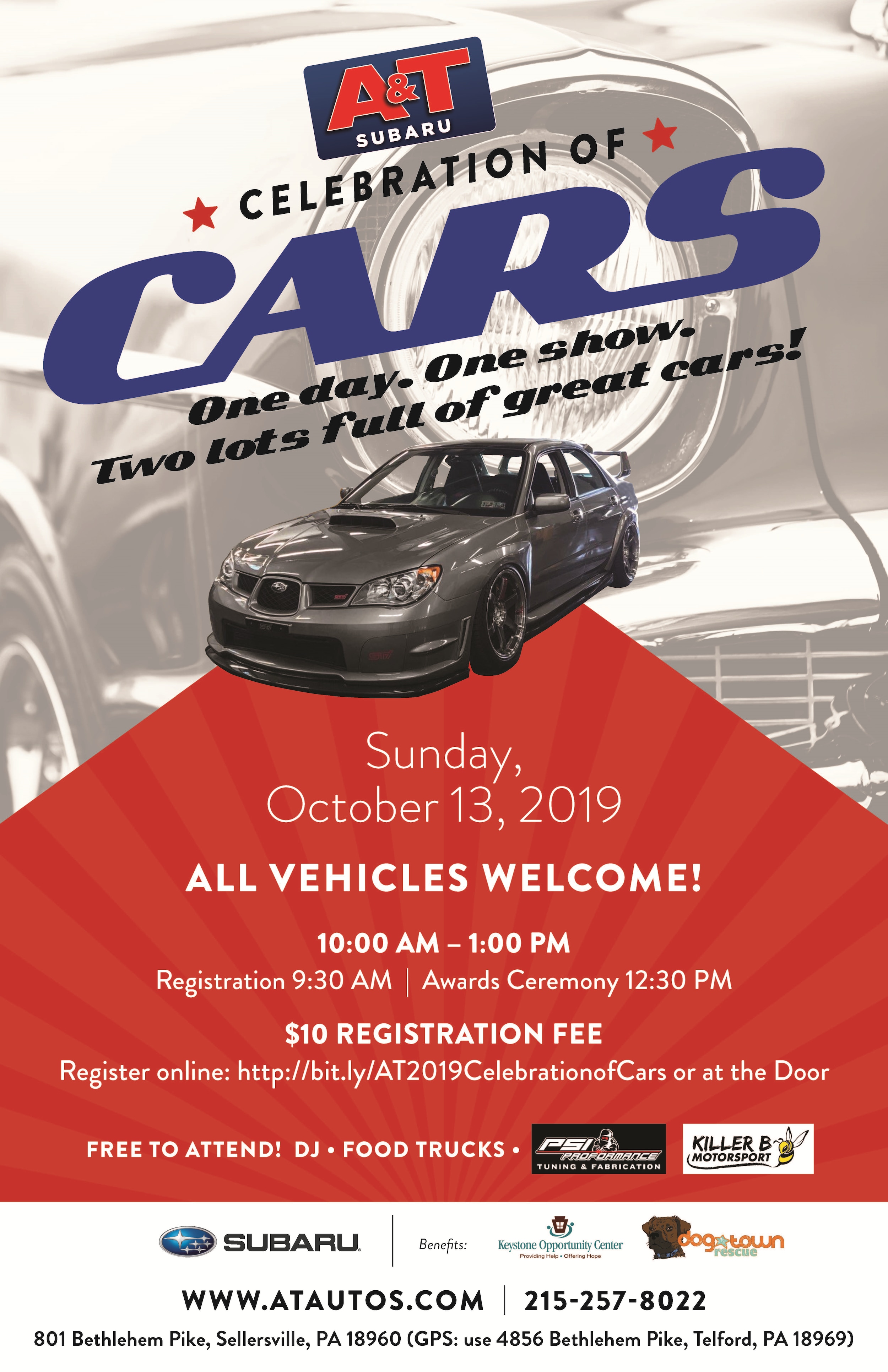 Learn More About Our Celebration of Cars Event Over the Years!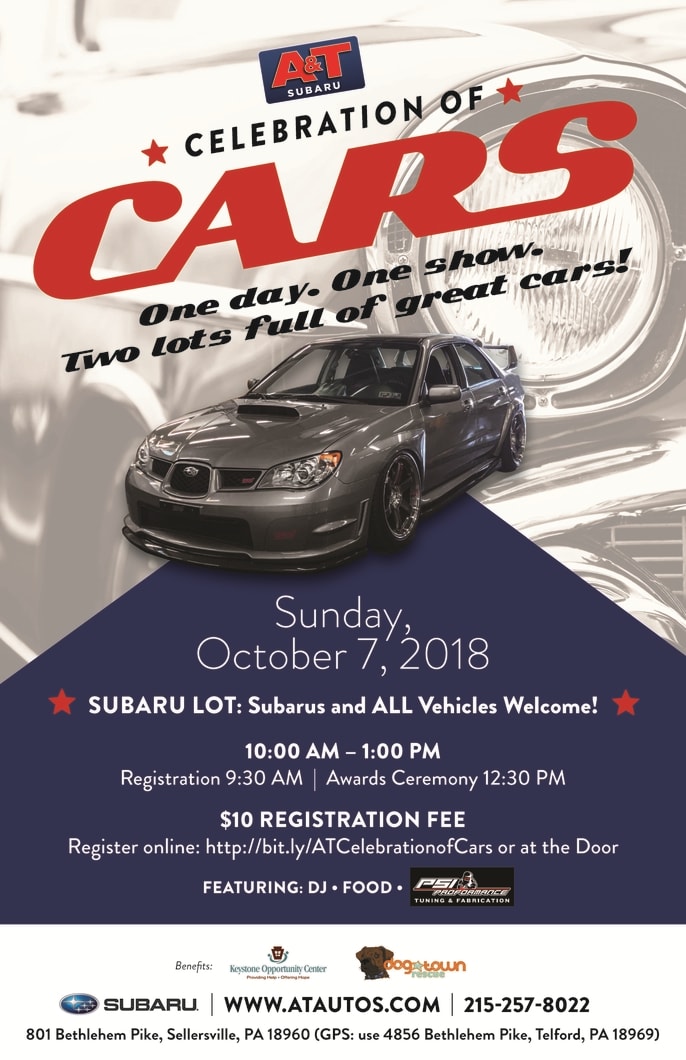 2018 Event
2018 Tuner Event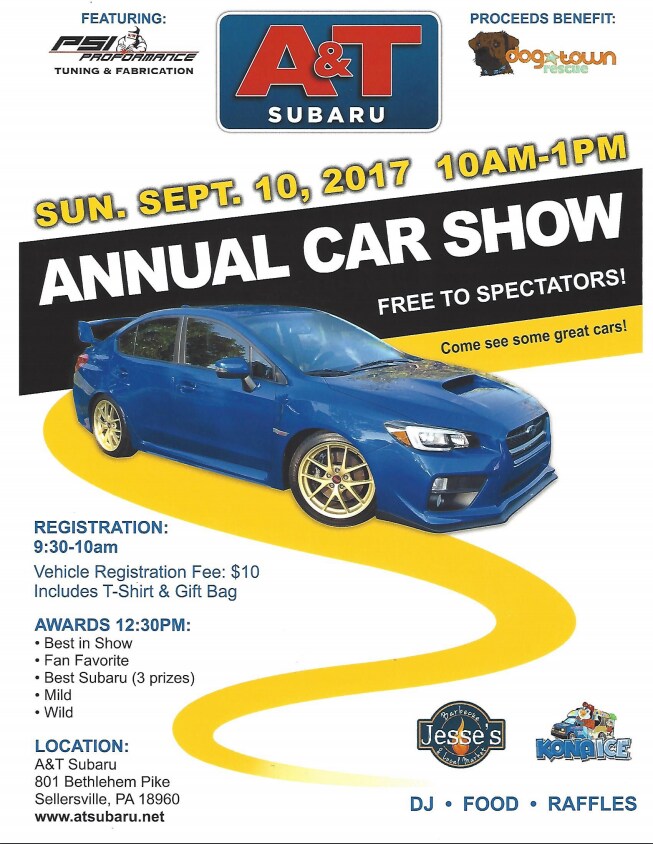 2017 Event
2017 Tuner Event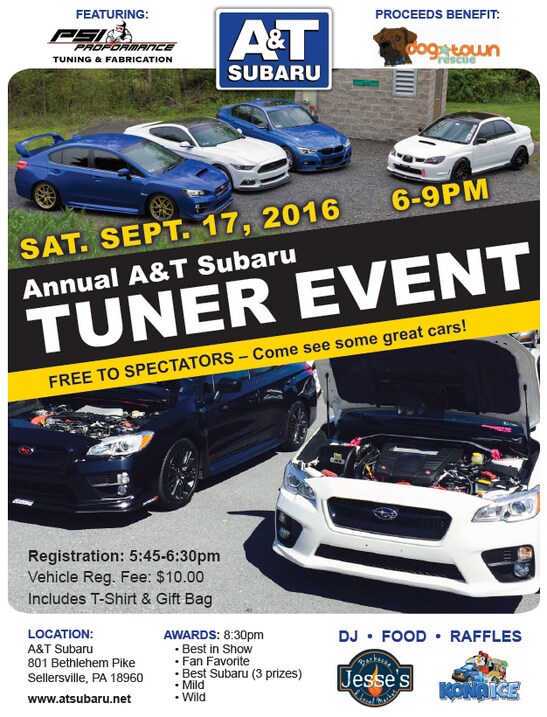 2016 Event
2016 Tuner Event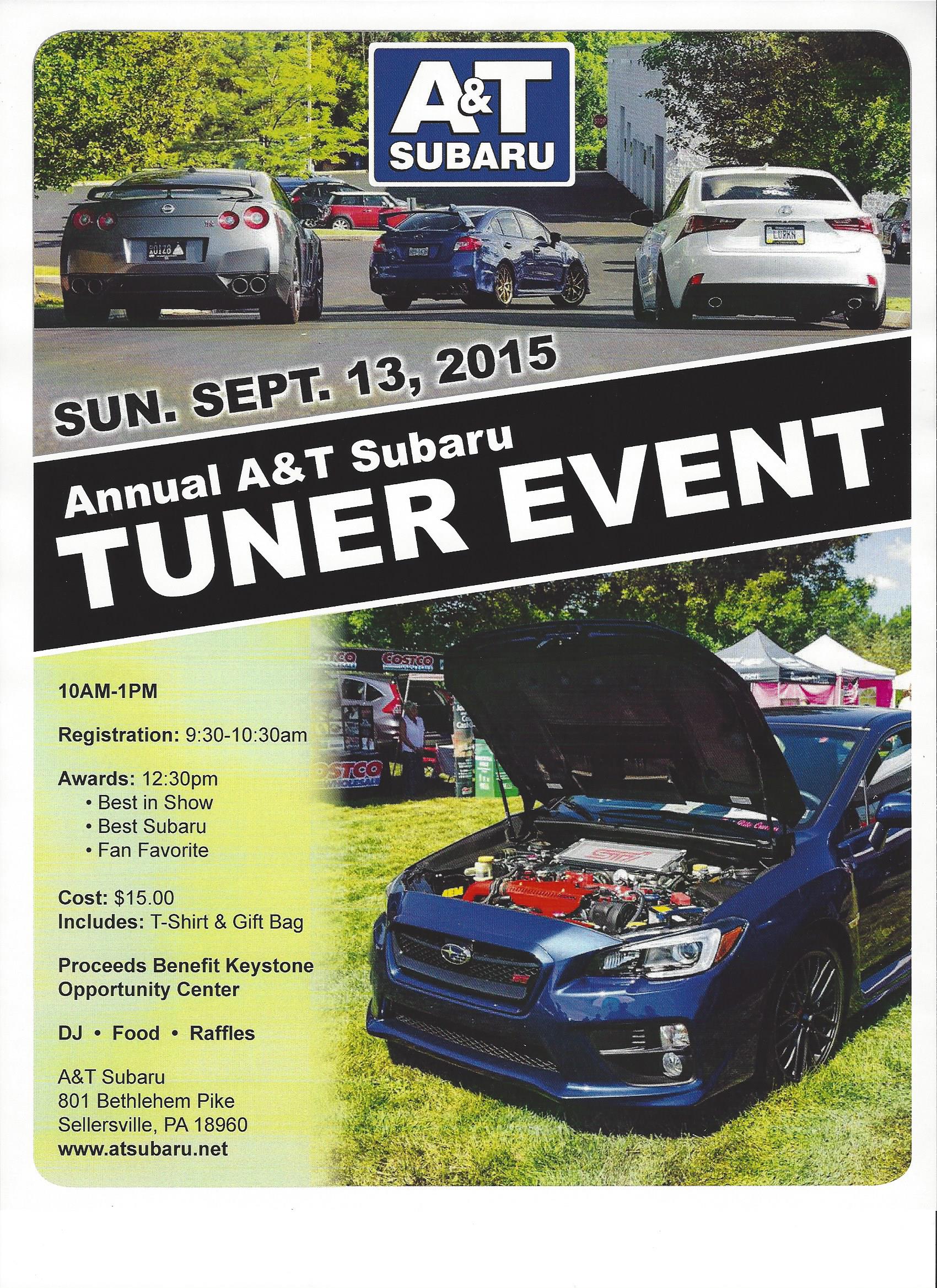 2015 Event
2015 Tuner Event
Stay in Touch For The Next Event!
How Did the Celebration of Cars Event Begin?
First held in 2012, it was originally named the Tuner Event at A & T Subaru and was created as a way to bring together tinkerers and performance enthusiasts all across Sellersville, Lansdale, Quakertown, and Perkasie PA, but over the years it's grown and blossomed into something that was truly heart-warming, thrilling, and even beneficial to the community.
In the early years, we held our Tuner Event in the evenings, expecting just a handful of attendees. But for 2015, the team decided that it was time to open the event up in order to welcome the flood of interested persons. So, A & T Subaru's Tuner Event became an all-day Sunday happening for drivers (and passengers) of all ages. Team members and community members alike mingled, laughed, and admired together, enjoying refreshments from local businesses like Kona Ice of Allentown, music from local DJ Lobie, and contributing to the fundraising efforts of students from Pennridge High School. Attendants even got to vie for great themed prizes, like a white-and-blue beach cruiser bike, and even a Subaru Corn Hole game!
And not only did we have a blast seeing all of the awesome custom cars and chatting with fellow enthusiasts, we were able to collect $960 in donations for the Keystone Opportunity Center! (If you missed the event, but still want to be able to donate to this amazing charity, we encourage you to visit their website or contact us.)
October 7, 2018, was a car lovers' dream come true when we hosted the first edition of our largest car show to date, the Celebration of Cars.  
"It's a celebration of our brands, of course, but we love all kinds of vehicles so we merged our previous shows into one big day where all makes and models of show cars are welcome" said Jeff Allen, A&T Subaru president.
The day began with registration and check-in from 9:30-10:00 a.m. followed by the show from 10:00 a.m. to 1:00 p.m. There was a registration fee of $10.00 per vehicle entry, with proceeds benefitting Keystone Opportunity Center and Dog Town Rescue. Participants competed for trophies in 12 categories.
This event was FREE for the public to attend, with food available from the Wahlburger's and Munchy Machine food trucks and local favorite Papa's Cupcakes. Festivities included face painting by Sunny Face Painting; vendors Beef Jerky Outlet and PSI Proformance; and First Class Entertainment DJs.
Over 130 registrants spent their Sunday with us! The show registrations and door prize ticket sales raised $1,500.00. We matched that, bringing the total proceeds to $3,000.00, with Keystone Opportunity Center and Dog Town Rescue each receiving a $1,500.00 donation. 
If you're interested in future events, feel free to contact us.