The 2021 Subaru Love Promise Customer and Community Commitment Award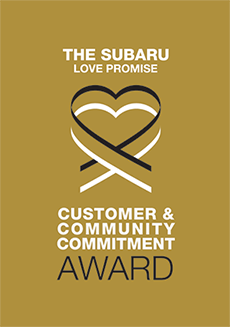 We've been nationally recognized for our dedication to our customers, our community, and the Subaru Love Promise.
We're honored to receive the 2021 Subaru Love Promise Customer and Community Commitment Award. This award nationally recognizes elite Subaru retailers who provide an exceptional customer experience at every interaction with Subaru. These retailers have also demonstrated an outstanding commitment to supporting passions and causes in their local communities in important areas such as the environment, community, health, education, and pets.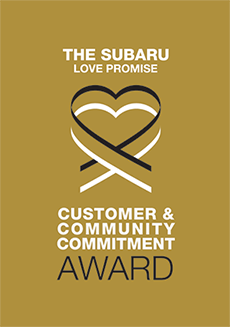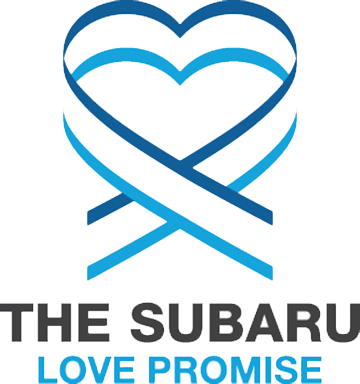 What is the Subaru Love Promise?
Subaru and our retailers believe in making the world a better place and the Subaru Love Promise is our vision of respecting all people. This is our commitment to show love and respect to our customers and to work to make a positive impact in the world.
How is A & T Subaru dedicated locally to the Love Promise?
Our Love Promise can be seen in various partnerships with local charities and non-profits. We're grateful for the opportunity, not only to be a part of our community, but to serve it as well.
Last Chance Ranch, Dog Town Rescue, Harley's Haven
Keystone Oppurtunity Center
Love Promise Stories from A & T Subaru
Subaru and A & T Subaru believe in making a positive impact on the communities in which we live and work. We uphold that belief through our Love Promise Community Commitment. Every month, we select inspiring stories from customers and partners from around our area who strive to support our collective commitment and feature them here
Strengthening the Local Economy through Live Music - Elayne B
The Sellersville Theater is a historic, intimate performing arts venue for live music & comedy shows by local & national acts - and it's right down the road from A&T Subaru! We are grateful for A&T Subaru's continued sponsorship support, especially during a year when presenting live shows has been challenging, sometimes impossible, due to the pandemic. We appreciate their care and their commitment to supporting the local economy through live music.
---
A&T Subaru Shares Warmth in the Community - Eileen A
This year more than ever, Bucks County families are struggling with providing the most basic needs. When Auto Dealers CARing for kids offered to provide children's coats to the Bucks County Opportunity Council, we were happy to accept and help deliver them to children around the county. Recipients of holiday assistance were offered coats for their children, and we have enough to give out more as the cold winter goes on, thanks to the generosity of the local car dealerships. As the Community Action Agency for Bucks County, BCOC is the first-responder for individuals and families in poverty. In addition to providing assistance with basic needs such as food, shelter and utility assistance, the warm coats were gratefully accepted by many families who didn't have the means to purchase new clothing this year. A&T Subaru has been the auto dealer sponsoring the coats for BCOC for many years. We are so appreciative of their generosity and care.
---
A & T helps keep the arts alive in Sellersville - Elayne B
The entertainment industry has been devastated by the CoronaVirus Pandemic. Sellersville Theater has been closed to the public for most of 2020. We have been busy developing our live stream capabilities and rescheduling events, but that doesn't generate the income to pay our staff or overhead. A & T Subaru has long been a supporter of the arts in Sellersville, and specifically of Sellersville Theater. They have continued their sponsorship this year, even though we have no programming to offer in return. This has helped us remain an asset to our community. We are very grateful for A & T's unwavering support!
---
A&T Inspires on #GivingTuesday 2020 - Sondra P
A&T Subaru has been helping Penn Foundation instill hope, inspire change, and build community for over 20 years! Without A&T's faithful support, we would not be able to provide quality mental health and addiction treatment services to our community. This December, A&T offered a generous match donation to Penn Foundation's #GivingTuesday campaign. Their contribution prompted many others to give, helping to generate over $5,000 for our mission. It our most successful #GivingTuesday campaign to date! We are blown away by A&T Subaru's generosity, and the generosity they inspire in others - especially in such a challenging year. Penn Foundation is so grateful to A&T Subaru, their compassionate support, and all they do for our community.
---
A&T Subaru Supports Oldest Tree Lighting in the US - Linda R
2020 was a challenging year for community everywhere! A&T Subaru's generous donation helped the Perkasie community continue a very special tradition - America's Oldest Tree Lighting Ceremony. Recognized by the US Congress, Perkasie's celebration began in 1909 and has grown to be a treasured tradition for families across the region. Event organizers pivoted to prerecord and broadcast an hour long video special, featuring the history of the event, a Santa fly in at the local airport, musical performances and - of course - Santa lighting the town tree. A&T Subaru's contribution meant that families everywhere could participate in this special event from the comfort and safety of their own homes, and 2020's virtual event can be stored as a unique and permanent record of a special year in the Ceremony's history. A&T Subaru is a valued partner in Perkasie's events and projects. They provide vehicles for our veterans for their annual Memorial Day parade, they support the Doggy Dip at the town's Aquatic Center, they provide speakers and other resources for Earth Day events, they sponsor transport during the Fall Festival. They are a part of just about every event we run, always ready to listen and contribute. We are truly grateful for A&T Subaru's continuing support.
---
How an act of kindness supports a community. - Kimberly R
For the third year in a row, A&T Subaru has come to us asking if there are families in our community who are living with a cancer diagnosis. As we know, there are some individuals in our area who are not only living with cancer and going through treatments, but also facing financial hardship. A cancer diagnosis not only affects the individual, but the entire family. As the holiday's approached, A&T Subaru reached out to Grand View Hospital's Oncology department to offer help for our families who were looking for support this season. This year, they held The Great Giftaway to collect gift cards in $25.00 increments. The response from their team and customers has been amazing and so heartfelt by patients and families in our community. So many families will have a brighter holiday thanks to A&T Subaru. We are very grateful!
---
Above and Beyond. - Malcolm F
Jeff and his team at A&T Subaru selected Keystone Opportunity Center some years ago as a "Hometown" charity for the "Share the Love" program. This year we honored A&T as our Community Champion for Neighborhood Mobilization and included interviews with Jeff and his executive team as part of our first virtual annual banquet event. Through their continued support, we wanted to express our deepest appreciation on behalf of our clients facing food insecurity, homelessness and those in need of a better education to reach self-sufficiency. I wanted to share a note from one of our clients to reflect on the importance of this continued support means this year of all years. "Dear Keystone Opportunity Center, Thank you and your generous donors for offering your food programs as it is a godsend to me and my family. When the pandemic happened I lost my job and we are on a fixed income so when I found out you and your donors were able to provide free nutritious food every week, this was very helpful. This year A&T have also made a difference in the lives of those we serve who are homeless by providing blankets during the fall ahead of the cold weather. This offering was a blessing. Yesterday Jeff and his team stopped by to donate a large quantity of gift cards that we will distribute to our clients that will enable them to have the personal dignity of conducting their own holiday shopping, something we all enjoy at this time of year. Thank you... thank you... several times over to Jeff and A&T Subaru they continue to make a great difference in the lives of the children, adults and families we serve each year.
---
A&T Subaru Helps Dog Town Rescue Save Remus - Karina S
Remus is a young pup who found himself in terrible condition and as risk of euthanasia at ACCT Philly due to medical concerns. Dog Town Rescue was able to step in and rescue him from the shelter, in large part due to the fundraising that comes from A&T Subaru. A&T is extremely supportive of our small not for profit dog rescue, including hosting an annual car show that raises funds and collecting items from our wishlist during the holiday season. Remus has had more than 6 months of TLC and many, MANY vet visits to help his skin heal from mange and deep skin infections. This care has included skin biopsies, antibiotics, medicated baths, pain meds and specialized food and injections. Remus has remained a trooper throughout it all and in recent weeks has really begun to show us his playful and happy puppy side. It has been heartwarming to see the transformation and we are so thankful for A&T Subaru's support and donations that allow us to save even more dogs.
---
A&T Subaru & LLS bring love to Grandview patients! - Jenn P
On Thursday, June 27, 2019, A&T Subaru delivered blankets and warmth to patients at Grandview Health in Sellersville, Pennsylvania. For the third year in a row, the A&T Subaru team glowed in excitement to bring Subaru's "Love to Care" mission to life. With over 10 Subaru team members and over 10 Grandview Cancer team members joining The Leukemia & Lymphoma Society – the delivery was a great success! A&T is proud to support LLS through Loves to Care, and now, for the 2nd year in a row, with their Share the Love program in the winter. LLS is so grateful for the support of Subaru and especially of this incredible retailer that go above and beyond to create joy for patients in need.
---
Comfort Blanket Donation to GVH Cancer Patients - Fallon E
On June 27, A&T Subaru of Sellersville and the Leukemia & Lymphoma Society (LLS) once again donated comfort blankets to help keep our patients warm as they fight against cancer and also arts and crafts kits for children. As part of the Subaru "Loves to Care" program, patients of Grand View Health are given hope, love, and warmth through this simple act of caring. Subaru and LLS have donated over 105,000 blankets and 12,000 arts & crafts kits to hospitals and cancer treatment centers across the country since 2015. We love that we can count on A&T Subaru and LLS to keep this amazing program going and continue to brighten the day for so many patients in our community.
---
A&T Shares the Love w/Leukemia & Lymphoma Society - Jenn P
In December 2018, A&T Subaru honored The Leukemia and Lymphoma Society (LLS) in Eastern PA in recognizing LLS as a Hometown Charity for their Share the Love campaign. Incredibly raising more than $15,000, A&T is impacting patients with cancer and us along with the patients and families we serve, are so grateful. Especially patients like Matthew. Matthew Houser was born on May 12, 2006. He lives in Malvern, PA with his mom, dad, and brother, Will. Matthew was only two-years-old when he was diagnosed with Burkitt's lymphoma in November of 2008. Matthew's pediatrician found a mass in his abdomen that ultimately led to his diagnosis. Since then, they've had a LOT of doctor's appointments and even though he's in remission, Matthew is managing side effects from chemotherapy. Matthew says his hero is his grandfather, a fellow cancer survivor. When he grows up, Matthew wants to be a teacher or a restaurant owner because he loves people. In the meantime, he and his family have shown their love of people by participating in a variety of fundraising events for those with cancer. Matthew was surprised and delighted upon meeting the A&T Subaru team this year and taken for a fast drive in one of their newest editions as well as given thoughtful gifts. Subaru never ceases to amaze us in all they do to partner with those with the greatest need. Thank you so much!
---
A & T Subaru Loves to Care at Grandview Hospital - Jenn P
When driving to delivery for A&T Subaru & Grandview Hospital I noticed an amazing connection on the highway – 1st large billboard – "STRENGTH AGAINST CANCER Grandview Health – 2nd large billboard "A&T SUBARU" – 3rd large billboard – "STRENGTH AGAINST CANCER". I Shared this with both A&T Subaru & Grandview and they were thrilled. Not only are they partnering in loves to care, but also in their messaging throughout the community. Many GVH team members participated in the delivery and were overjoyed by the impact A&T Subaru is having on their patients. As we wrapped, the oncology team gave thanks and encouragement to the LLS staff and invited 1 member to the floors to distribute materials – this is huge win for blood cancer patients as the more information they are privy to, the better they feel going in to treatment. A&T Subaru spoke to our LLS team and have invited LLS in Eastern PA to join them in Share the Love for 2018. Thank you!
---
Saluting the Pennridge Class of 2018 - Jeff A
Each year, A&T Subaru presents the "A&T Subaru Further Education Scholarship" to a member of the Pennridge High School senior class seeking to attend college. This year's recipient of this $2,000 scholarship is Kayla Voorhees. She will attend Gwynedd Mercy University in the fall to pursue a career in nursing. All the best to you as your pursue your dreams, Kayla! It was great to meet you!
---
Team A&T Subaru Bowls for Kids' Sake - Laura J
Team A&T Subaru had a terrific time supporting the efforts of Big Brothers Big Sisters of Bucks County at their annual Bowling for Kids' Sake. We gathered with other members of the business community as well as "bigs" and "littles" Sunday, April 8, 2018 at Earl Bowl Lanes in Quakertown. It's always fun to be out and about in the community we serve. It's also not so bad to win! Once again, Team A&T Subaru was the winner of our round of competition, coming in with a score of 219. Congrats!
---
A&T Subaru Supports First Responders - Jeff A
A&T Subaru continues our commitment to the community we serve with our recent donation of $2,000 to the Sellersville Fire Department."We're very fortunate to have so many dedicated men and women willing to give their time to the fire department to keep us safe," said Jeff Allen, A&T Subaru president. "They all put in so much time and sacrifice, the least we can do is to help their fundraising efforts." The Sellersville Fire Department's next fundraising event is a Ham Dinner taking place at the station on 2 North Main Street, Sellersville, on Sunday, March 11, 2018, from 11:00 a.m. to 5:00 p.m. All are invited to enjoy a great meal in support of Sellersville's firefighting efforts.
---
Landis Market Helps Fill the Car for Keystone - Arlene D
We're fortunate to be part of a business community that supports each other. Landis Supermarket in Telford has kindly agreed to help us Fill the Car for our 2017 Subaru Share the Love charity, Keystone Opportunity Center. Now through January 2, 2018, shoppers at Landis' can help us Fill the Car by placing their purchases in the designated cart. Thank you to our friends at Landis Market!
---
Driving Away the Cold for BCOC - Jackie A
In Bucks County, approximately 41,406 people live in poverty;10,996 of them are children. When money is tight, families often do without. That is why A&T Subaru is once again partnering with the Auto Dealers CARing for Kids Foundation for Driving Away the Cold. A&T Subaru has increased their donation to 132 new winter children's coats for the Bucks County Opportunity Council (BCOC) to distribute to local children in need. Started in 2008 by the Auto Dealers CARing for Kids Foundation, Driving Away the Cold is a philanthropic initiative with one important mission: to provide new winter coats to underprivileged children living in the five-county region of Philadelphia. This year, 180 local auto dealers and the Auto Dealers CARing for Kids Foundation are donating more than 50,000 brand-new coats. Since the program's inception, the Foundation has warmed both the bodies and souls of over 315,000 area children in need. To learn more about the Auto Dealers CARing for Kids Foundation and the difference it is making in the greater Philadelphia community, please visit www.caringforkids.com.
---
Supply Drive for Last Chance Ranch Animal Rescue - Jackie B
We're proud to continue our mission of supporting the communities we serve. This time, with a pet supply drive for Quakertown-based animal rescue, Last Chance Ranch. Many thanks to everyone who donated - each one of you has made a difference!
---
A&T Subaru Loves Learning - Tamara C
A&T Subaru continues its commitment to support the community it serves, this time carrying out the mission of Subaru Loves Learning with a donation of 150 award-winning science books, 19 titles in all, to elementary students in the Souderton Area School District. It is all part of the Subaru Love Promise and in support of the American Association for the Advancement of Science (AAAS). This Subaru Loves Learning book donation is a program designed to donate outstanding, prize-winning books to schools with the goal of engaging young learners in the world of science and inspire them to want to learn more. These books are designed to supplement existing curriculum by supporting science, technology, engineering and mathematics (STEM) education, while also helping to build reading and literacy skills. The Subaru Loves Learning initiative reflects Subaru of America's (SOA) corporate goals to improve the education and the lives of those in local communities nationwide. Throughout the month, both SOA and local retailers across the country have shown their commitment to education in a variety of ways – all part of the larger Subaru Love Promise Community Commitment effort dedicated to making a positive impact on the world.
---
Perkasie Doggy Dip - Linda R
Summer is over, but before our friends at Perkasie Borough's Menlo Park drained the pool for the year our furry friends had the chance for a swim at the Doggy Dip. We were happy to be a participant of this fun event, providing support and a Doggy Goodie Basket as a prize.
---
#LoveLocal - Indian Valley Farmer's Market - Joanne C
We believe that by supporting local business, we support each other. And it doesn't get much more local than a community market. That's why we are proud to be the main sponsor of the 2017 season of the Indian Valley Farmer's Market, where local-producing farmers and merchants gather every Saturday in Telford, selling their fresh produce and merchandise as neighbors gather in community.
---
Grand View Health & A&T Subaru Loves To Care - Monique R
A & T Subaru and The Leukemia & Lymphoma Society (LLS) Eastern PA Chapter delivered 80 Subaru Loves To Care Blankets to Grand View Health and Alliance Cancer Specialists on June 26th, 2017. The blankets will be shared with patients who are fighting cancer. In addition, to the blankets Grandview also received arts & crafts kits that can be shared with children. Subaru and The Leukemia & Lymphoma Society are spreading hope, love and warmth to patients. Thank you to Grand View Health and Alliance Cancer Specialist for accepting the blankets and help brighten someone's day.
---
Sharing Warmth with Grand View Health - David A
Together, the Leukemia & Lymphoma Society and Subaru are spreading hope, love and warmth to those fighting cancer across the country. On June 26, A&T Subaru and the LLS Eastern PA Chapter delivered comfort blankets and cards with messages of hope for patients of Grand View Health and Alliance Cancer Specialists, along with art and craft kits for children. A&T Subaru and LLS have combined their efforts to brighten the day for many in our community.
---
Perkasie Borough Pop-Up Park for Earth Day - Linda R
We celebrated Earth Day April 22 and 23 with Perkasie Borough at their Pop-up Park.The Borough created an Earth Day oasis in the parking lot in the center of town. We were proud to sponsor the event, which provided two days of free family fun to our friends and neighbors.We were on hand for the event and held a coloring contest for kids age 3-12. Everyone had a terrific time.
---
Share the Love Raises $6,671 for Hometown Charity - Jeff M
The results of the 2016 Subaru "Share the Love" campaign are in, and Keystone Opportunity Center now has $6,671.00 additionl dollars thanks to our amazing customers and Subaru of America, Inc. (SOA). This is the fourth year we've teamed up with Keystone Opportunity Center for "Share the Love," a charitable program where Subaru of America (SOA) donates $250.00 (up to $15 million) to the designated Hometown Charity -- Keystone Opportunity Center -- or one of four national charities: ASPCA®, Make-A-Wish®, Meals On Wheels Association of America®, and National Park Foundation for each new Subaru sold between November 17, 2016 – January 3, 2017. Over the course of these past four years, Subaru of America has donated a total of $26,298.00 to Keystone Opportunity Center on behalf of A&T Subaru and their customers. The 2016 "Share the Love" campaign kicked off with A&T Subaru's "Fill the Car" food and supply drive, encouraging customers to donate items from Keystone Opportunity Center's wish list. This effort yielded 100 lbs. of much-needed food and supplies. "This shows how incredible our customers are," said A&T Subaru president Jeff Allen. "They're the ones who choose which 'Share the Love' charity to support and they're the ones who take the time to donate food or supplies. We're all about providing opportunities to come together as a community to support organizations like Keystone Opportunity Center."
---