The 2022 Subaru Love Promise Customer and Community Commitment Award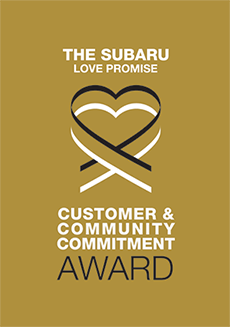 We've been nationally recognized for our dedication to our customers, our community, and the Subaru Love Promise.
We're honored to receive the 2022 Subaru Love Promise Customer and Community Commitment Award. This award nationally recognizes elite Subaru retailers who provide an exceptional customer experience at every interaction with Subaru. These retailers have also demonstrated an outstanding commitment to supporting passions and causes in their local communities in important areas such as the environment, community, health, education, and pets.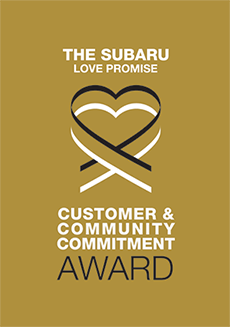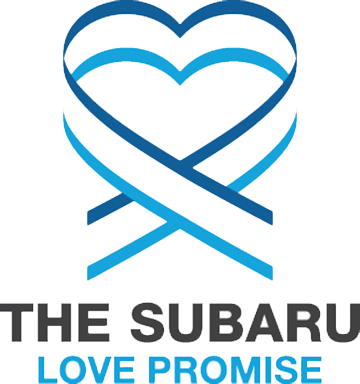 What is the Subaru Love Promise?
Subaru and our retailers believe in making the world a better place and the Subaru Love Promise is our vision of respecting all people. This is our commitment to show love and respect to our customers and to work to make a positive impact in the world.
How is A & T Subaru dedicated locally to the Love Promise?
Our Love Promise can be seen in various partnerships with local charities and non-profits. We're grateful for the opportunity, not only to be a part of our community, but to serve it as well.
Last Chance Ranch, Dog Town Rescue, Harley's Haven
Keystone Opportunity Center
Love Promise Stories from A & T Subaru
Subaru and A & T Subaru believe in making a positive impact on the communities in which we live and work. We uphold that belief through our Love Promise Community Commitment. Every month, we select inspiring stories from customers and partners from around our area who strive to support our collective commitment and feature them here
A&T Subaru Coming Through for Families in Need - Malcolm F
Keystone Opportunity Center is delighted to have been selected once again as a Hometown Charity by A&T Subaru for the Subaru Share The Love campaign. We are thrilled to report that the 2021 Subaru Share the Love campaign has yielded $14,035 toward our mission. Thanks to the generosity of all involved, including the customers of A&T Subaru over the years, A&T Subaru and Subaru have now donated over $100,000 to Keystone Opportunity Center. Based in Souderton, Keystone Opportunity Center serves members of our community facing homelessness, hunger and in need of education to reach self-sufficiency. Barry, a single dad of four amazing children was directed by a friend to connect with Keystone Opportunity Center as he was significantly behind in his rent and facing eviction. He was hesitant at first, thinking that "charity is for other people in need." But putting the needs of his young family first, he called and was connected to our Community Case Management team. Thanks to A&T Subaru and the Subaru Share The Love campaign, Keystone Opportunity Center was able to help prevent eviction, by providing rental support and working with his landlord. In addition, Barry was given gas cards to enable him to drive his youngest children to see his eldest daughter perform in her school play. Learning more about the food-insecurity challenges they faced, again, thanks to proceeds from the Subaru Share The Love campaign, Keystone Opportunity Center worked with our food-pantry team to ensure he had nutritional foods for his family and fresh produce through the weekly "Fresh For All" food program. Barry's case is only one of the many calls we receive every day. A&T Subaru, through their efforts locally and with the Subaru Share The Love campaign, is truly doing as it says – sharing the love - by helping children, adults, and families who are in need in our community. For more information about Keystone Opportunity Center, please visit www.KeystoneOpportunity.org. We love to hear from you, feel free to reach out through contact@keystoneopp.org or call 215-723-5430.
---
A&T Subaru Adopts a Highway for Earth Day - Michelle K
Subaru Loves the Earth. It's one of the Love Promise pillars that we strive to live out every day. We are proud to be a Certified Subaru Eco-friendly Retailer, which means we adhere to daily practices that protect our environment in the areas of energy efficiency, water conservation, recycling, and waste management. That's great while we're here in the showroom and shop, but we're committed to serving our community beyond our front door. That's why we recently signed up for Pennsylvania's Adopt-A-Highway program. We were approved just before the onset of the COVID-19 pandemic, so it means that much more that our first outing picking up trash along our designated route happened this year on Earth Day weekend. Around 20 A&T Subaru team members gathered at the dealership the morning of Sunday, April 24 to gather our gear and fan out along our route. If you were out and about and saw people wearing orange vests gathering trash – including a kiddie pool! – that was us. We collected about 20 bags of trash and a working cell phone which we were able to reunite with its owner. After our work was complete we headed back to the dealership for burgers on the grill. We can't wait to do it again in the fall! To see more photos, visit our Facebook page: www.facebook.com/ATSubaru
---
A&T Subaru - Help in the Nick of Time - Malcolm F
We were delighted for A&T Subaru to stop by this morning. Our community case manager distributed her last gas cards at the end of last week. With gas prices at the pump at record levels, our low-income clients have been asking if we can help them with household costs, including gas. Sharing the Love, A&T Subaru once again have stepped up at a critical time to ensure our clients are able to drive their kids to school, to work and to pick up food provided by Keystone Opportunity Center's food distribution program. Only last Friday we appealed for $25 gift cards for gas, and here they are today. Thank you to A&T Subaru and everyone involved in the gift card collection.
---
A&T Subaru Makes a Kindness Connection - Michelle K
Hurricane Ida hit our area hard in September 2021. We know many in our region suffered from the dangerous flooding and its aftermath. Two dear friends in our community – Jesse's BBQ in Souderton and the Sellersville Volunteer Fire Department – each suffered devastating damage to their buildings. We are grateful that Jesse's is back up and running and that the Sellersville Volunteer Fire Department is making progress at restoring the damage to their indoor and outdoor spaces, damage that put a halt to their fundraising. We decided to make a kindness connection for Random Acts of Kindness Week. We bought dinner at Jesse's BBQ and delivered it to our friends at the Sellersville Volunteer Fire Department to enjoy before their weekly training night. They showed us the progress made to the building so far, which is amazing. They hope to have the indoor work completed by April and Poppa Joe's Grove is already booking up for 2022 and 2023. Thanks to the support of you, our customers, we were able to also present a $6,500 donation toward the Sellersville Volunteer Fire Department's purchase of a High Water Vehicle and toward the ongoing restoration work. Our community has shown time and again that through kindness, anything is possible. We are grateful to play a small part in sharing that kindness during Random Acts of Kindness Week and every other day of the year.
---
A&T is a St. Luke's Penn Foundation Superhero! - Sondra P
This year, St. Luke's Penn Foundation is celebrating the superheroes in our Caring Community of donors – and A&T is definitely one of them! Through the Power of Partnership and the Power of Generosity, A&T has kindly donated a match gift to our 2021 end of year campaign. Their matching contribution inspired thousands of dollars from individuals throughout our community, which will help support our 25 mental health and addiction treatment services. While this is the second year that A&T has partnered with us for a matching gift challenge, they've been faithfully supporting our mission of instilling hope, inspiring change, and building community for many years now. We are so appreciative their continued support of St. Luke's Penn Foundation and all they do for our community!
---
Pennridge High School Scholarship - Cindy L
Jeff Allen and A&T Subaru have sponsored the A&T Subaru Further Education Scholarship at Pennridge High School since 2007 and have committed their continued sponsorship for the Class of 2022. Through the generous assistance provided, the Pennridge High School seniors selected to receive these scholarships have been able to realize their dreams of continuing their education.
---
A&T, Keystone and Larry. - Malcolm F
I wanted to tell you about Larry, a Navy veteran who served on the USS Oriskany an aircraft carrier before finally settling down in Souderton 31 years ago, is a client of Keystone Opportunity Center. He was living in a one-bedroom apartment. The place had changed owners twice since I moved in. And of course, each new owner raised the rent. But from what Larry was getting from social security, it was not enough. He would get his check, pay his rent, pay his phone and electric. There was nothing left. If it was not for food-stamps and the Keystone food pantry, in his own words, "I would have starved!" Our Community Case Manager worked with Larry to connect him to numerous supports for seniors and veterans. In Larry's case, we even helped him fill out the forms. Larry adds, "Being on social security, you get all kinds of paperwork, but my hands shake and it is now very difficult for me to write. I would connect with Keystone staff who would help me fill out the forms. The case management team connected me with many resources over the years that have been helpful to me. It means everything to have Keystone Opportunity Center there to help me." That's not where the assistance from Keystone ended. We helped Larry get into low-cost housing for seniors. He now pays just a fraction of the rent he used to pay, leaving funds that will help him live out his life with dignity. With the wonderful, continued support of Jeff and his team at A&T Subaru, they have worked alongside Keystone Opportunity Center to help provide shelter, food, education, blankets and financial support that our community members, like Larry so desperately need – especially at the time when COVID-related benefits are ending. Thank you A&T Subaru.
---
Dog Town Rescue Loves A&T Subaru - Karina S
Every year A&T Subaru hosts a supply drive for Dog Town Rescue in October, culminating with a car show where proceeds go to the rescue. Not only do these supplies help us care for the dogs in our adoption center and keep it safe, clean and stocked for all the dogs we are able to help, but the proceeds from the care show help us cover some of the vet bills and allow us to help medical cases. As an example in 2021 we were able to help a sweet momma dog named Darcy and her 5 puppies with some of these funds, including providing heartworm treatment to Darcy. Darcy and her pups have all been adopted and are all well loved Thank you A&T and Subaru!-Dog Town Rescue
---
Sellersville Theater is grateful for A & T Subaru - Elayne B
Independent entertainment venues like Sellersville Theater continue to take a financial beating, due to restrictions and illness caused by the pandemic. A & T Subaru has stood by us throughout as a sponsor of our live events, even when we were not able to produce any! Their support of local arts creates a positive ripple effect in our community and we are extremely grateful. Without our sponsors' support, we would not be able to exist!
---
Supporting community programming in Perkasie - Linda R
A&T are generous supporters of community events in Perkasie PA. They are an important partner in our annual "Under the Stars Car Show", "Fall Festival" and our Tree Lighting Ceremony. Perkasie holds the distinction of hosting America's Oldest Tree Lighting Ceremony – 2021 marked the 112th year. Support from A&T helped us create a magical evening for our residents and for visitors from across the region. The global pandemic has brought much hardship for our local retailers and eateries, and they need the foot traffic and custom that these large events bring; A&T's partnership helps us generate more visitors and more economic success for our mom and pop businesses. The whole town is grateful for their support.
---