The 2021 Subaru Love Promise Customer and Community Commitment Award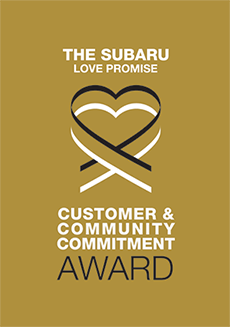 We've been nationally recognized for our dedication to our customers, our community, and the Subaru Love Promise.
We're honored to receive the 2021 Subaru Love Promise Customer and Community Commitment Award. This award nationally recognizes elite Subaru retailers who provide an exceptional customer experience at every interaction with Subaru. These retailers have also demonstrated an outstanding commitment to supporting passions and causes in their local communities in important areas such as the environment, community, health, education, and pets.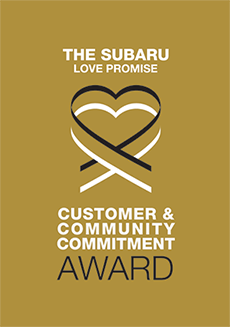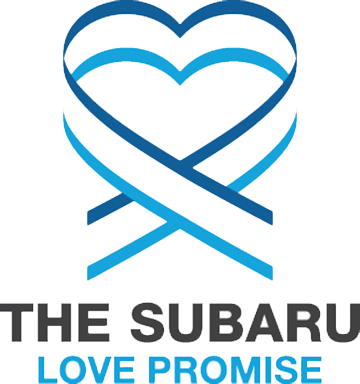 What is the Subaru Love Promise?
Subaru and our retailers believe in making the world a better place and the Subaru Love Promise is our vision of respecting all people. This is our commitment to show love and respect to our customers and to work to make a positive impact in the world.
How is A & T Subaru dedicated locally to the Love Promise?
Our Love Promise can be seen in various partnerships with local charities and non-profits. We're grateful for the opportunity, not only to be a part of our community, but to serve it as well.
Last Chance Ranch, Dog Town Rescue, Harley's Haven
Keystone Opportunity Center
Love Promise Stories from A & T Subaru
Subaru and A & T Subaru believe in making a positive impact on the communities in which we live and work. We uphold that belief through our Love Promise Community Commitment. Every month, we select inspiring stories from customers and partners from around our area who strive to support our collective commitment and feature them here
Strengthening the Local Economy through Live Music - Elayne B
The Sellersville Theater is a historic, intimate performing arts venue for live music & comedy shows by local & national acts - and it's right down the road from A&T Subaru! We are grateful for A&T Subaru's continued sponsorship support, especially during a year when presenting live shows has been challenging, sometimes impossible, due to the pandemic. We appreciate their care and their commitment to supporting the local economy through live music.
---
A&T Subaru Shares Warmth in the Community - Eileen A
This year more than ever, Bucks County families are struggling with providing the most basic needs. When Auto Dealers CARing for kids offered to provide children's coats to the Bucks County Opportunity Council, we were happy to accept and help deliver them to children around the county. Recipients of holiday assistance were offered coats for their children, and we have enough to give out more as the cold winter goes on, thanks to the generosity of the local car dealerships. As the Community Action Agency for Bucks County, BCOC is the first-responder for individuals and families in poverty. In addition to providing assistance with basic needs such as food, shelter and utility assistance, the warm coats were gratefully accepted by many families who didn't have the means to purchase new clothing this year. A&T Subaru has been the auto dealer sponsoring the coats for BCOC for many years. We are so appreciative of their generosity and care.
---
A & T helps keep the arts alive in Sellersville - Elayne B
The entertainment industry has been devastated by the CoronaVirus Pandemic. Sellersville Theater has been closed to the public for most of 2020. We have been busy developing our live stream capabilities and rescheduling events, but that doesn't generate the income to pay our staff or overhead. A & T Subaru has long been a supporter of the arts in Sellersville, and specifically of Sellersville Theater. They have continued their sponsorship this year, even though we have no programming to offer in return. This has helped us remain an asset to our community. We are very grateful for A & T's unwavering support!
---
A&T Inspires on #GivingTuesday 2020 - Sondra P
A&T Subaru has been helping Penn Foundation instill hope, inspire change, and build community for over 20 years! Without A&T's faithful support, we would not be able to provide quality mental health and addiction treatment services to our community. This December, A&T offered a generous match donation to Penn Foundation's #GivingTuesday campaign. Their contribution prompted many others to give, helping to generate over $5,000 for our mission. It our most successful #GivingTuesday campaign to date! We are blown away by A&T Subaru's generosity, and the generosity they inspire in others - especially in such a challenging year. Penn Foundation is so grateful to A&T Subaru, their compassionate support, and all they do for our community.
---
A&T Subaru Supports Oldest Tree Lighting in the US - Linda R
2020 was a challenging year for community everywhere! A&T Subaru's generous donation helped the Perkasie community continue a very special tradition - America's Oldest Tree Lighting Ceremony. Recognized by the US Congress, Perkasie's celebration began in 1909 and has grown to be a treasured tradition for families across the region. Event organizers pivoted to prerecord and broadcast an hour long video special, featuring the history of the event, a Santa fly in at the local airport, musical performances and - of course - Santa lighting the town tree. A&T Subaru's contribution meant that families everywhere could participate in this special event from the comfort and safety of their own homes, and 2020's virtual event can be stored as a unique and permanent record of a special year in the Ceremony's history. A&T Subaru is a valued partner in Perkasie's events and projects. They provide vehicles for our veterans for their annual Memorial Day parade, they support the Doggy Dip at the town's Aquatic Center, they provide speakers and other resources for Earth Day events, they sponsor transport during the Fall Festival. They are a part of just about every event we run, always ready to listen and contribute. We are truly grateful for A&T Subaru's continuing support.
---
How an act of kindness supports a community. - Kimberly R
For the third year in a row, A&T Subaru has come to us asking if there are families in our community who are living with a cancer diagnosis. As we know, there are some individuals in our area who are not only living with cancer and going through treatments, but also facing financial hardship. A cancer diagnosis not only affects the individual, but the entire family. As the holiday's approached, A&T Subaru reached out to Grand View Hospital's Oncology department to offer help for our families who were looking for support this season. This year, they held The Great Giftaway to collect gift cards in $25.00 increments. The response from their team and customers has been amazing and so heartfelt by patients and families in our community. So many families will have a brighter holiday thanks to A&T Subaru. We are very grateful!
---
Above and Beyond. - Malcolm F
Jeff and his team at A&T Subaru selected Keystone Opportunity Center some years ago as a "Hometown" charity for the "Share the Love" program. This year we honored A&T as our Community Champion for Neighborhood Mobilization and included interviews with Jeff and his executive team as part of our first virtual annual banquet event. Through their continued support, we wanted to express our deepest appreciation on behalf of our clients facing food insecurity, homelessness and those in need of a better education to reach self-sufficiency. I wanted to share a note from one of our clients to reflect on the importance of this continued support means this year of all years. "Dear Keystone Opportunity Center, Thank you and your generous donors for offering your food programs as it is a godsend to me and my family. When the pandemic happened I lost my job and we are on a fixed income so when I found out you and your donors were able to provide free nutritious food every week, this was very helpful. This year A&T have also made a difference in the lives of those we serve who are homeless by providing blankets during the fall ahead of the cold weather. This offering was a blessing. Yesterday Jeff and his team stopped by to donate a large quantity of gift cards that we will distribute to our clients that will enable them to have the personal dignity of conducting their own holiday shopping, something we all enjoy at this time of year. Thank you... thank you... several times over to Jeff and A&T Subaru they continue to make a great difference in the lives of the children, adults and families we serve each year.
---
A&T Subaru Helps Dog Town Rescue Save Remus - Karina S
Remus is a young pup who found himself in terrible condition and as risk of euthanasia at ACCT Philly due to medical concerns. Dog Town Rescue was able to step in and rescue him from the shelter, in large part due to the fundraising that comes from A&T Subaru. A&T is extremely supportive of our small not for profit dog rescue, including hosting an annual car show that raises funds and collecting items from our wishlist during the holiday season. Remus has had more than 6 months of TLC and many, MANY vet visits to help his skin heal from mange and deep skin infections. This care has included skin biopsies, antibiotics, medicated baths, pain meds and specialized food and injections. Remus has remained a trooper throughout it all and in recent weeks has really begun to show us his playful and happy puppy side. It has been heartwarming to see the transformation and we are so thankful for A&T Subaru's support and donations that allow us to save even more dogs.
---
A&T Subaru & LLS bring love to Grandview patients! - Jenn P
On Thursday, June 27, 2019, A&T Subaru delivered blankets and warmth to patients at Grandview Health in Sellersville, Pennsylvania. For the third year in a row, the A&T Subaru team glowed in excitement to bring Subaru's "Love to Care" mission to life. With over 10 Subaru team members and over 10 Grandview Cancer team members joining The Leukemia & Lymphoma Society – the delivery was a great success! A&T is proud to support LLS through Loves to Care, and now, for the 2nd year in a row, with their Share the Love program in the winter. LLS is so grateful for the support of Subaru and especially of this incredible retailer that go above and beyond to create joy for patients in need.
---
Comfort Blanket Donation to GVH Cancer Patients - Fallon E
On June 27, A&T Subaru of Sellersville and the Leukemia & Lymphoma Society (LLS) once again donated comfort blankets to help keep our patients warm as they fight against cancer and also arts and crafts kits for children. As part of the Subaru "Loves to Care" program, patients of Grand View Health are given hope, love, and warmth through this simple act of caring. Subaru and LLS have donated over 105,000 blankets and 12,000 arts & crafts kits to hospitals and cancer treatment centers across the country since 2015. We love that we can count on A&T Subaru and LLS to keep this amazing program going and continue to brighten the day for so many patients in our community.
---